GNSS Module
MC-1612-AB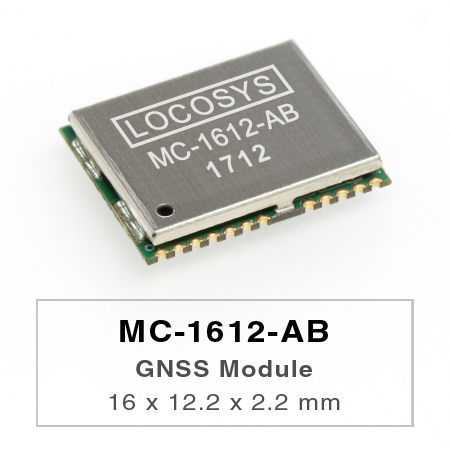 LOCOSYS MC-1612-AB is a complete standalone GNSS module. The module can simultaneously
acquire and track multiple satellite constellations that include GPS, BEIDOU, GALILEO, QZSS and SBAS.
It features low power and small form factor. Besides, it can provide you with superior drone flight.
This module supports hybrid ephemeris prediction to achieve faster cold start. One is self-generated
ephemeris prediction (called EASY) that is no need of both network assistance and host CPU's intervention.
This is valid for up to 3 days and updates automatically from time to time when GNSS module is powered on
and satellites are available. It builds in a saw filter and an embedded 12 multi-tone active interference
canceller for anti-jamming. The GNSS module makes drone possible some incredible capabilities as:
Self-Leveling, Altitude Hold, Return Home, Waypoint Navigation, Fail Safe Returning Home, Cycling mode
and Loiter Mode.
Features
MediaTek high sensitivity solution
Support GPS, BEIDOU, GALILEO and QZSS
Capable of SBAS (WAAS, EGNOS, MSAS, GAGAN)
Support 99-channel GNSS
Low power consumption
Fast TTFF at low signal level
Built-in 12 multi-tone active interference canceller
Free hybrid ephemeris prediction to achieve faster cold start
Compatible with Autopilot's APM, PX4 and PixHawk system
Up to 10 Hz update rate
Support part of ubx protocol
Outdoor multi-path detection and compensation
Fix indicator LED (1PPS)
Small form factor 16 x 12.2 x 2.2 mm
SMD type with stamp holes; RoHS compliant
ISO/TS 16949 quality control
Specification
Satellite System: GPS + BEIDOU + QZSS
Interface: UART
Input Voltage: 3.0V - 4.3V
Power (mA): 25mA
VB (uA): 7uA
Operating Temp (°C): -40 ~ 85
Dimension (mm): 16 x 12.2 x 2.2 mm
Applications
Drone, Quadcopter application
Personal positioning and navigation
Automotive navigation
Type
GNSS Flash Base
GPS Chip
Automotive
Marine
Press Release
GPS rollover issue

Dear valued customers/partners,
Please reach your sales person, distributing partners or email to info@locosystech.com for further info.
if you have any GPS rollover question/issue to LOCOSYS'...

Read More

2019 Electronica

2019 Electronica China was held at the Shanghai New International Expo Center on March 20-22, 2019.

Read More

ST low-end vehicle terminal solution

ST's T-BOX solution is a vehicle terminal solution designed by STMicro's automotive electronics division in order to meet the national requirement for new energy vehicle control and to meet...

Read More