RTK Board
RTK-4671-SHDR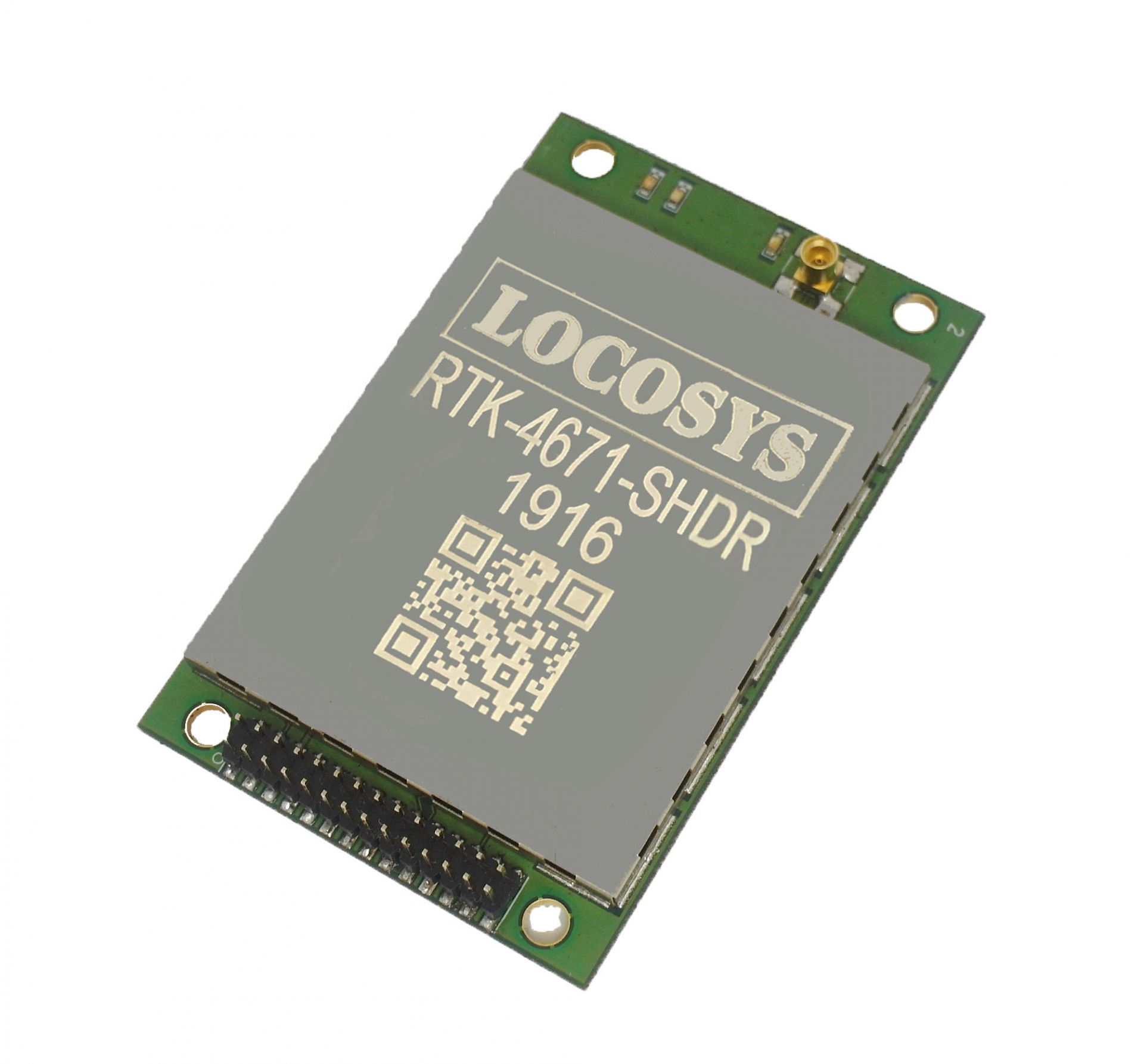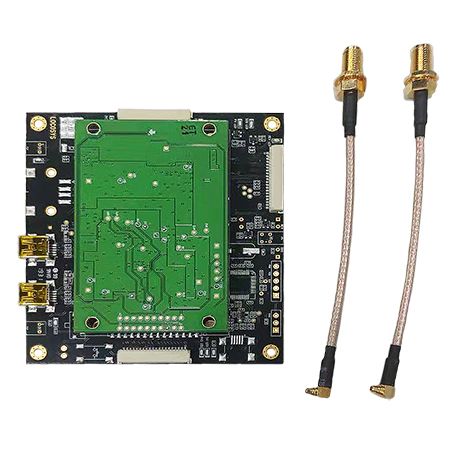 High-Precision GNSS RTK Dead Reckoning Solution for Smart Driving & Lane Level Navigation
LOCOSYS RTK-4671-SHDR is a high-precision GNSS RTK solution targeting for the smart driving and lane level navigation markets. The newly designed LOCO II engine architecture is optimized to offer a seamless experience in dense urban canyons. The RTK-4671-SHDR takes the shortest time to fix position and continues to work wherever they are.
Centimeter-Level Positioning & Dead Reckoning / Support Rover
RTK-4671-SHDR is a cost-efficient GNSS RTK board for cm-level positioning and accurate raw measurements output, which can be integrated with autopilots and inertial navigation units. RTK-4671-SHDR board supports GPS, GLONASS, BeiDou, GALILEO, QZSS and SBAS constellations to improve the continuity and reliability of the RTK solution even in harsh environment. It features powerful compatibility with other GNSS boards in the market by flexible interfaces, smart hardware design and popular log/command formats adopts Real Time Kinematics (RTK) technology with the correction data from CORS network. It also supports rover absolutions for those which do not have public CORS network, compact solution and the best-in-class low power solution for precise positioning application.
RTK-4671-SHDR is a single-band multi-system with an ARM base processor; RTK-4671-SHDR not only supports GPS, GLONASS, BeiDou, GALILEO, QZSS and SBAS, but also has a flash memory, TCXO, RTC crystal, LNA and SAW filter, and embedded MEMS sensors (6-axis accelerometers + gyros). The high-precision Positioning/Dead Reckoning receiver offers centimeter-accurate positioning and heading with low-power consumption. LOCOSYS ADR/UDR software includes features to receive and use data from the built-in sensors along with external signals for wheel speed and Forward/Reverse direction. The vehicle signals are used to provide a high level of accuracy in the navigation solution.
FEATURES
Centimeter-level positioning in RTK mode

Support GPS, GLONASS, BeiDou, GALILEO and QZSS L1

Capable of SBAS (WAAS, EGNOS, MSAS) Precise navigation, positioning

Great anti-jamming performance (due to multi-tone active interference canceller).

GNSS Position Accuracy 1.5m CEP

RTK Accuracy 0.01m + 1ppm CEP

Built-in LOCOSYS Dead Reckoning (ADR/UDR) both technology software

Built-in MEMS sensor (3-axis Gyroscope and 3-axis Accelerometer)

Support MEMS raw data output, High update rate (up to 100Hz)

Support Odometer (wheel-tick pulse) input

Support sensors data feed through the UART port

Support ADR/UDR Automatic fast learning calibration

Low-power consumption and compact size

Current limited feature (limited to 50mA typ.) with active GNSS antennas

Industrial operating temperature range -40 to +85°C

Easy and simply to integrate

LOCOSYS IATF 16949 certified production sites
APPLICATIONS
Autonomous Vehicle Guidance

Unmanned Aerial Vehicles

Precision Agriculture

AGV Robotics

V2X / ETC / 5G Station

Structural / Land Monitoring

Offshore / Marine Applications
---
Locosys GPSFox Test Software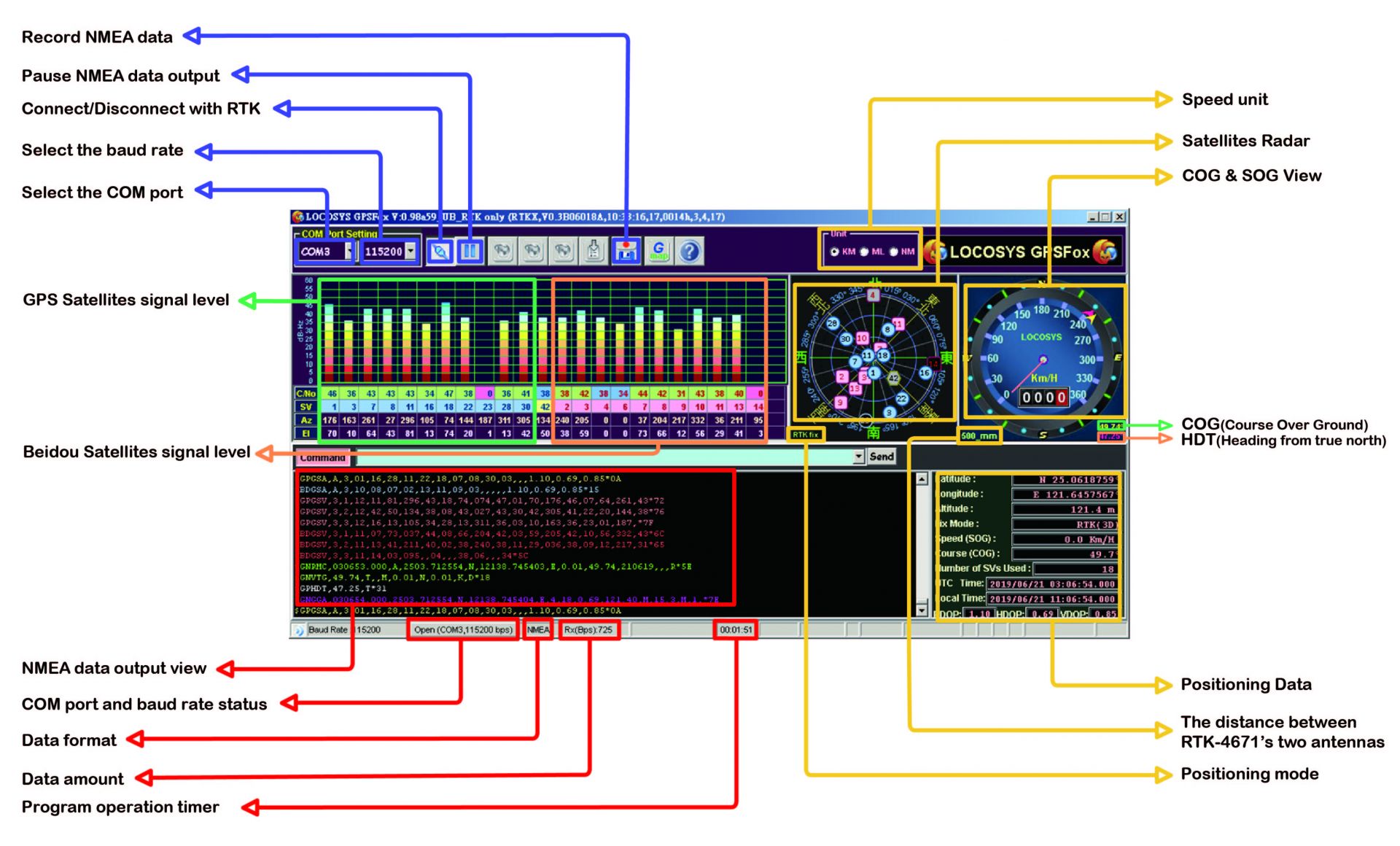 ---
LOCOSYS Success Stories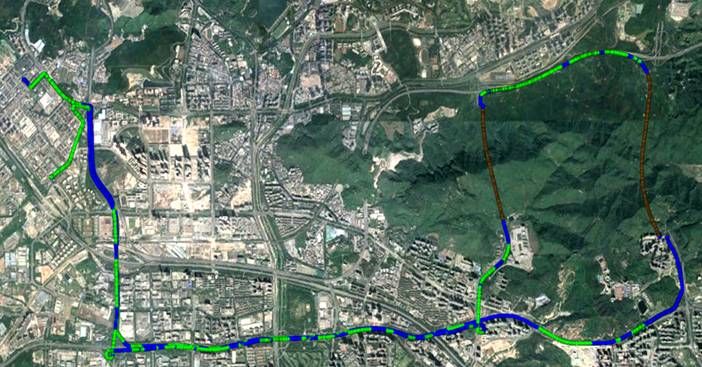 Green Point Track: RTK
Blue Point Track: GNSS
Brown Point Track: ADR
Location: Shenzhen City, Guangdong Province, China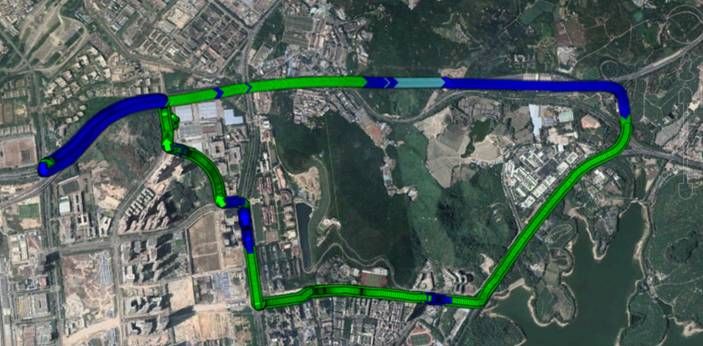 Green Point Track: RTK
Blue Point Track: GNSS
Light Blue Point Track: DR
Location: Shenzhen City, Guangdong Province, China
Type
rtk
rtk gps
rtk gnss
rtk gps receiver
GPS Heading
Automated Guided Vehicle
Unmanned van
Unmanned transport vehicle
Files Download

---

Related Products

---
Press Release
GPS rollover issue

Dear valued customers/partners,
Please reach your sales person, distributing partners or email to info@locosystech.com for further info.
if you have any GPS rollover question/issue to LOCOSYS'...

Read More

2019 Electronica

2019 Electronica China was held at the Shanghai New International Expo Center on March 20-22, 2019.

Read More

ST low-end vehicle terminal solution

ST's T-BOX solution is a vehicle terminal solution designed by STMicro's automotive electronics division in order to meet the national requirement for new energy vehicle control and to meet...

Read More