GW-52
GW-52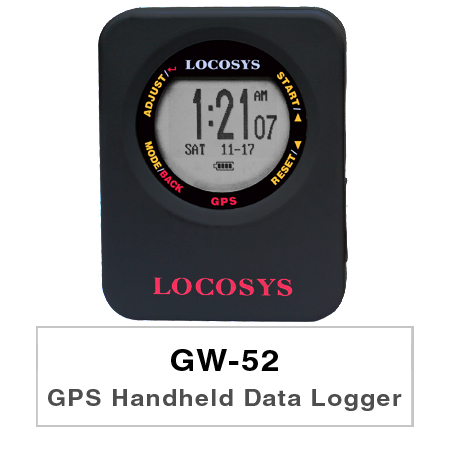 GW-52 is a GPS instrument optimized to measure speed using GPS-Doppler.

For 10 years, LOCOSYS GPS Units have been and continue to be the only GPS recommended by Speed Sailing Events Worldwide! This includes the GT11 and the GT31 models. However, these are no longer available.

The GW52 GPS is the replacement for the GT11 and GT31. After extensive field testing with leading windsurfing organizations round the world, the GW52 is the finest and most precise handheld GPS available.

The files from the GW52 will be accepted by leading GPS Speed Sailing Sites in USA, Europe, and Australia.
Features
Touch screen operation.
High sensitivity GPS.
Time mode (Alarm, Timer, Stopwatch).
Rechargeable lithium-ion battery.
Operation time: up to 2 years for watch, 14 hours for GPS.
Built in flash memory to store 12,000 GPS data.
10-seconds average speed display.
Support Doppler speed.
Google Earth KML / GPX format support.
Waterproof.
Applications
Windsurfing.
Hiking.
Backpackers.
Files Download

---

Related Products

GT-31/BGT-31

---

The GT-31 is a wonderfully compact, business card sized navigator, carefully designed to embody ergonomic principles. It will comfortably fit in the palm of your hand, mount on the handlebar of bike or motorcycle, and can even be worn on your arm. The stylish unit can stand on your desk as a funky gadget, or, more usefully, can be placed on the dashboard in your car. The GT-31 can run for up to 46 hours in power saving mode, backlight off with the built-in lithium ion polymer rechargeable battery. It can be recharged while connected to car cigarette lighter, mains power outlet, or your PC/Notebook. When traveling where no car or mains power is available, you may purchase an AA battery adapter, or a rechargeable power bank (Solar charger) to extend the usage. A state-of-the-art Thumb Stick (TS) allows for simple, one-handed operation. This rugged navigator is waterproof to IPX7 standards or, immersible in the water for 30 minutes at a depth of 1 meter, and, it floats! GT-31 is not only developed to handle outdoor activities, but also to handle various professional uses, such as speed, hazard area, zone alerts, altitude or other alerts defined by the user. To store trip data for longer journeys, there is a SD/MMC slot for extra data storage capacity. And, it can be used as a Real-Time GPS Receiver by connecting to your PC/Notebook.

---

GW-52

---

GW-52 is a GPS instrument optimized to measure speed using GPS-Doppler. For 10 years, LOCOSYS GPS Units have been and continue to be the only GPS recommended by Speed Sailing Events Worldwide! This includes the GT11 and the GT31 models. However, these are no longer available. The GW52 GPS is the replacement for the GT11 and GT31. After extensive field testing with leading windsurfing organizations round the world, the GW52 is the finest and most precise handheld GPS available. The files from the GW52 will be accepted by leading GPS Speed Sailing Sites in USA, Europe, and Australia.

---

GW-60

---

GW-60, a robust, highly-refined and wearable tool for surfing sports, is the natural heir to the LOCOSYS' Surfing GPS series (GT-31, GW-31, and GW-52), with a character all of their own. It racks up the data of speed, GPS, and distance to help surfers reach the best status in each session. Simple operation brings users get into the swing of it. GW-60 is a reliable partner for all surfers. "SPEED GENIE" records the change between speed and position, and combines with GPS-Doppler for tracking routes. Quick button-operation allows surfers to control the status immediately.

---

---
Press Release
GPS rollover issue

Dear valued customers/partners,
Please reach your sales person, distributing partners or email to info@locosystech.com for further info.
if you have any GPS rollover question/issue to LOCOSYS'...

Read More

2019 Electronica

2019 Electronica China was held at the Shanghai New International Expo Center on March 20-22, 2019.

Read More

ST low-end vehicle terminal solution

ST's T-BOX solution is a vehicle terminal solution designed by STMicro's automotive electronics division in order to meet the national requirement for new energy vehicle control and to meet...

Read More